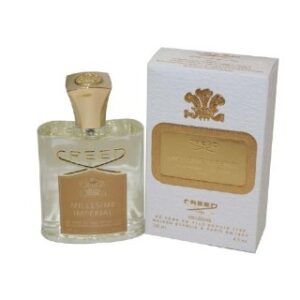 Millesime Imperial is that cologne with the best, mild, sweet and fresh fragrance that you do not just want but is a necessity for you. It is created by Creed fashion house and was introduced in the market in 1995. The notes comprise Iris green, Lemon, mandarin and Bergamot.
Why Millesime Imperial by Creed?
Millesime Imperial is worth a single penny that you invest in it. When you first smell the fragrance, it is irresistible. You will obviously not hesitate to buy it since the best word used in its description is that it's irresistible. The scent is both executive and casual together with being just mild enough to be appreciated by everyone. It's kind of subtle, rich, masculine and very nice in deed. Women really don't know why they seem to love its fragrance. When you compare it with your other colognes, the others will seem to be cheaper as well as being more artificial. The distinct feature about it is that you will not be able to smell its scent around thirty minutes after applying it. However, those around you will smell it throughout the day.
Pros
Very Sexy: The first time I purchased this cologne and went with it to my home, I was sceptical of whether my wife would appreciate the scent. After all, she had been criticizing the other colognes that I had been independently buying and I was not sure whether she would love this. The following day in the morning when I sprayed this sweet smelling cologne, she had to stop undertaking what she was doing and gave me a hug before even talking. The next statement was "wow! You smell nice. When did you buy that?" she has loved the smell to the extent that she always wants me to wear it anytime I am from the bathroom, just before bed.
Nice Fragrance: Millesime Imperial By Creed is the perfect master perfumer that I have come across. The cologne has got fragrance that is underlined with several layers that are truly hard to define or to describe. It is one of the few types of cologne that I consider to be complete because it is not only its nice scent that makes me want to buy another bottle every time the one I have is finished.
Long lasting smell: Its long lasting nature is another feature of this cologne that many consumers have appreciated and commended. It's rare to come across cologne or any spray that has its scent remaining on the clothes till the following day. Though on the second day it may be mild, it still plays an important role in boosting your ego even if you don't squirt again. People you come across will keep on asking you what cologne you are wearing and the compliments you'll received, both from friends and strangers will definitely make you feel great.
Cons
There were complaints from some consumers of receiving fake products from the sellers they bought from. A consumer has complained that apart from the bottle, any other thing including the text, color and scent is different from the original.
The cologne may somewhat be on the high end for some people.
Customer Review at Amazon.com

Conclusion
Millesime Imperial By Creed For Men Millesime Spray 4.0-Ounce Bottle is recommended for special occasions due to its sophisticated but nice fragrance that's a blend of amber, green mandarin, bergamot, Sicilian lemon, an iris blend and lemon scent together with a musky fragrance.
If you are excited about this product as many consumers are, you should visit Amazon because you will find numerous impressive offers there than you would find elsewhere online. Click on the link below to take advantage of the offer.